---
We co-organize the following conference:

News and announcements
Participation in a public videoconference Building and room acoustics:
Four members of the Department of Materials Engineering and Physics (doc. Chmelík, ing. Urbán, ing. Zelem and doctoral student ing. Biskupičová), took part in a popular public videoconference focused on building and room acoustics. The aim of the event was to present new trends in the field of building materials and construction systems, as well as new technology on the construction market and to point out the most common mistakes in the design and implementation of buildings in terms of acoustics. The conference was moderated by prof. M. Rychtáriková, who gradually discussed with the guests mainly topics related to the influence of current energy requirements on acoustic comfort and materials with special acoustic properties. The conference ended with a panel discussion on practical issues. You can watch the whole conference from the recording here.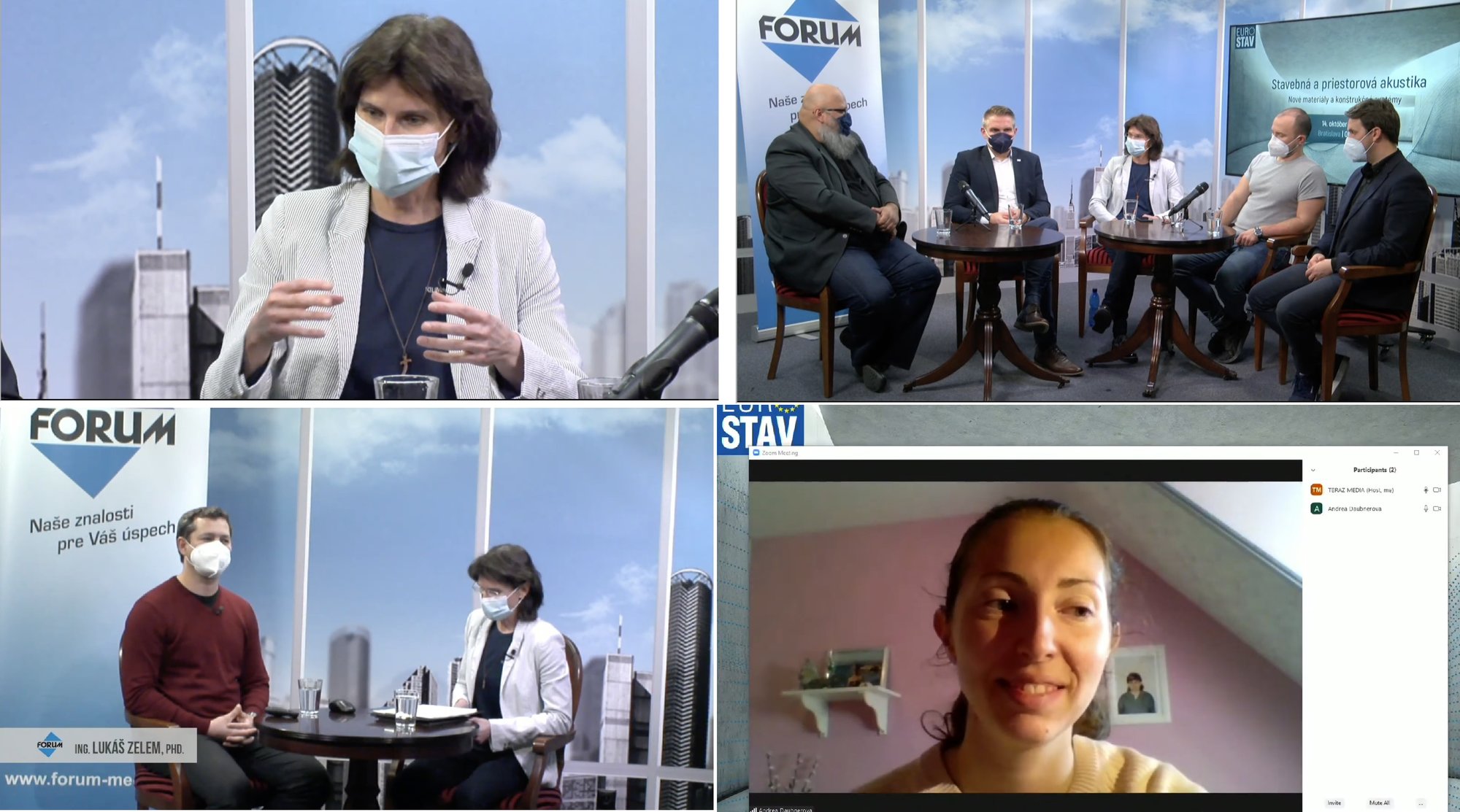 ---
PHYSICAL AND MATERIAL ENGINEERING 2021
On days 7-9. September, a regular annual international seminar on Physical and Material Engineering was held, which this year was organized by the Department of Physics in Prague (Czech Technical University in Prague, Faculty of Civil Engineering). In addition to our department, the Department of Physics in Brno (Brno University of Technology, Faculty of Civil Engineering) also took part. Next year the seminar will take place in South Moravia.

---
The first place of our student at the international student scientific conference 2021 in Ostrava:
On Thursday, May 20, 2021, our student Bc. Tomáš Dilik placed first in the category "05 MI - Materials Engineering" at the international student scientific conference at the Faculty of Civil Engineering VŠB-TU in Ostrava, where he presented "Methods of improving hygroscopic and thermal-technical properties of clay plasters" under the leadership of Ing. Valérie Gregorová, PhD.. He thus successfully represented not only our department but also the entire faculty, which contributed to the fact that our university reached the first place in the ranking of university success. Congratulations!
You can find more information here.